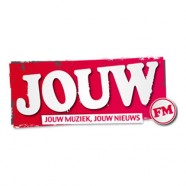 Mar

27
Tags
Related Posts
Share This
Jouw FM Imaged By The No.1 Jingle Company
There is something new again that we'd really like You… to notice and it just premiered in The Netherlands.
Top Format celebrates it's 40 years of jingles with an exciting new booming CHR jingle package. The uplifting format of Jouw FM exists from regional and local headlines combined with a contemporary modern pop music format. This formula already showed off and achieved the award for being the 'Best Cross Media-broadcaster' in The Netherlands.
For the second time around the new Jouw FM jingles are purchased and tailored at our audio imaging villa in Haarlem in cooperation with Jouw FM. The complete custom order includes cuts such as Top of the Hour, Top of the Half Hour, plus 6 main station ID's as the basis for full SVOV's (station voice + vocalized cuts), shotguns (short cuts with audio logo only) plus a bunch of alternate mixes: all ready for immediate live playout.
News and information breaks are hourly core moments that require specific audio imaging. These items are improved with the pinnacle of sophisticated CHR news beds, bumpers and audio dots. All bulletins now blend, attract the attention and include sort of a self fulfilling prophecy for news, weather, traffic and regional updates.
The definition of cutting edge beyond jingle-stuff things? Well. It has just been re-written at Jouw FM in The Netherlands.
For today's CHR, have a listen here:
Top Format's 'You 2015' for Jouw FM can be previewed instantly at topformat.com & on-air at jouwfm.nl!