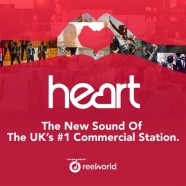 Sep

19
Tags
Related Posts
Share This
ReelWorld Give It Some Heart
The UK's number one commercial radio station, Heart, has got a brand new on air sound this week from ReelWorld.
The sung jingle package includes ramps, top of hours, and breakfast show themes as well as news, travel and utility beds.
As part of the partnership ReelWorld have created a new sonic logo for the network of 21 stations across the UK.
ReelWorld's teams at MediaCityUK and Seattle worked in collaboration to create the new sound loaded with energy and brightness which includes live instrumentation and uplifting vocals. Station features like the Time Tunnel and shows like Club Classics are also getting new imaging. In addition to the jingles ReelWorld have been contracted to produce regular monthly updates of new creative branding for the network.
The package includes different sung mix outs for "London's Heart" and "Scotland's Heart" as well as "This is Heart" for the rest of the network.
Heart is the UK's biggest commercial radio brand with over 9.1 million adults tuning in every week and the station is currently giving away £100,000 with its "Who's on Heart" competition.
Further updates to the jingle package will follow in 2015.