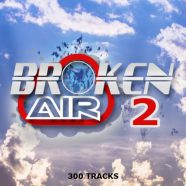 Nov

17
Tags
Related Posts
Share This
Broken Air 2: Make your imaging bigger and fatter!
Who says big and fat is bad? Meet Broken Air 2 from Sticky FX Productions in The Netherlands! The biggest and fattest sounding library around. A must have for any CHR, Hot AC or Greatest Hits imaging director. This multi-format package contains 300 fx and work parts that will give your productions the punch you're looking for.
With the Air Breakers you can splice up messages or accentuate certain parts of your production. When you want to come in with a bang, use the Low Breakers. They also work great for sudden changes in your production. And when you want start of your imaging with the right amount of energy, there's the Starters. The perfect way to launch your promo or ID. New in Broken Air 2 are the Drama Hits which give you the ability to create some real suspense in your imaging. Together with the steps you can create a level of suspense that makes your listeners want to know what's going on.
For more subtle work there's this package features lots of Whoosh Hits. Also you got your Impacts and lots of Beats for promos and talk-over stuff for your jocks.
Just mix and match all the tools in Broken Air 2 to your wishes and the possibilities become endless. Give your imaging the ultimate big, fat, punch with Broken Air 2. The library that gives your station's imaging, the power it needs to cut through!
Check out the demo:
Or simply download it immediately at: www.stickyfx.com Get it now with the introduction discount of 15%. For a limited time, only! Broken Air 1 and 2 are also available as a friendly priced bundle.