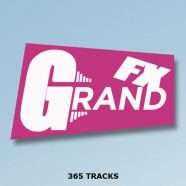 May

28
Tags
Related Posts
Share This
Radio is evolving and so should your imaging!
The radio world is changing fast. Competition is more fierce and widespread than ever before. That's why Sticky FX created Grand FX! A brand new library that lets you take on all sorts of competition in today's radio world. A unique tool that lets you re-invent the sound of your station.
The days where you compete only with other radio stations have long gone. You now battle against numerous apps and streaming services as well so it's even more important than ever before to make your audio brand stand out.
Sound of today
Grand FX is there to help you craft your own unique imaging sound with 365 FX and Work Parts that blend seamlessly with today's CHR and Hot AC music but also make your station's imaging pop out of the radio or any other device your listener uses.
This library by Sticky FX contains brand new FX and Work Parts in a style that has proven its usability over the years. But everything is tailored to the sound of today's radio and music.
Power Intro's
The audio in Grand FX is categorized in 18 folders, each with a specific purpose. It includes a big collection of fresh sounding Starters, Impacts, Hits, Slams and Breakers. But there's also some Work Parts specially crafted for the in Power Intro's like the Sweeps, Risers and Glitches.
App world
There's no denying it, we're living in an app world today and so is your station. So Grand FX feature two new categories full of app noises and notification sounds to enhance the message of your ID's and promo's.
Your imaging in today's radio world really has to have a 360 degree approach so you stand out on all media platforms. Grand FX provides you with the tools to do just that. It has cool EDM Work Parts, Stagers, Drones and Beds with which you can create great sound tracks for everything you do on and off air.
And when you want to give your productions some more energy with beats based FX, there's lots of great tools in Grand FX like Beat Slams, Stoppers and Beat Starters.
Bulletproof
The sound of Radio is evolving and so should your imaging! Get Grand FX and make your station's imaging bulletproof to your competition, from wherever it may come!
Get Grand FX now for your station at www.stickyfx.com! Now with a 50 Euro  introduction discount, for 199 EURO instead of 249 EURO (limited time offer)
Checkout the audio demo and visit https://www.stickyfx.com/en/products/grand-fx.html